Welcome

, World's Jewish Museum!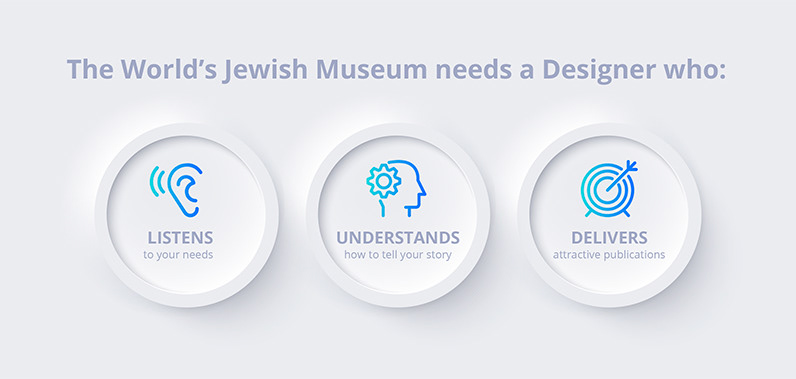 But who is this designer with a little bit of chutzpah, reaching out of the blue to this big organisation?
Born in South Africa, I grew up in a vibrant Jewish community where education, culture and human decency were our highest values.
As a second-generation survivor, I was drawn to Israel,
where I could exist freely as a Jew without feeling marked out or different. I trained as a graphic designer at Wizo, Haifa, and have lived in Israel for many years, working in the pro-Israel lobby. 
Based near Tel Aviv, I have been designing brochures, annual reports and corporate publications in the field of high-tech for large international companies.
As soon as I saw the plans for the World's Jewish Museum, it connected deeply with me.
I want to be involved! My great passion is to inspire and educate visitors to this museum.
I'm quite polite in general, but whenever I've wanted something badly enough, I've prided myself on having the chutzpah to reach out and get it. I imagine the World's Jewish Museum will need
clean and aesthetic publications and graphic illustrations for both print and digital media.
I hope I will have the opportunity to help provide that.